New DreamWorld image!!  I'm always happy to have a new installment for this series!
This image is a little bit "out of order," so to speak.  The Apprentice is, obviously, an apprentice, but to someone you haven't met yet, although you will.  In an ideal world, I would have shown you the Apprentice's mistress first so it made more sense why she is out collecting herbs and plants and other ingredients, but you'll have to just trust me on this for now  🙂  Hopefully I'll be able to show you her mistress soon, but that's going to be a pretty complicated shoot.
This image is extra special because it features a new model for me, Noemi Regalado.  Noemi is not someone who actively pursues modeling like most of the other people I work with.  She happened across my work and sent me an email asking if she could be a part of it.  Of course I said yes!  It took us a little while to find a time to shoot (which was all my fault; I think she first wrote me right around the time of my first sinus surgery and we know how that turned out.  And it seems nothing has calmed down since then!) but eventually we got a time set that worked for us both.
In a way, I'm a little glad that we had a few months to email back and forth and get to know each other a little more before the shoot although I'm sure the wait was maddening for Noemi!  (She will probably deny this because she's very laid-back and easy going, but still.  Waiting sucks.)  In the course of our email exchange I learned that she has had her own health battles despite only being about the same age as I am.  She is a cancer survivor, currently completely in remission, and I suspect that she will stay that way.  She is a gentle soul but I know she fought that cancer out of her body.  She also participates in mud runs, something I probably would never have had the endurance for even before ME, and since her apartment only allows very small dogs, she volunteers regularly at a German Shepherd rescue group.  Every couple weeks she goes down, takes a dog out for a nice walk, socialization and a whole lot of love.  Then she repeats the process several times.  If that's not one of the best examples of making lemonade from lemons that you've heard, I don't know what to tell you 🙂  Shelter dogs have SO MUCH up against them, even the smallest gesture of love and attention can go a long, long way toward helping that dog find his or her forever home.  And so far she has been directly responsible for at least one Shepherd finding a home with a friend of hers!  I'm sure there will be more.
As you can see, Noemi is a very cool chick!  I wanted to come up with some concepts for her which would fit with her personality and her willingness to get uncomfortable and messy for a photo.  We ended up shooting two concepts; this first one that you'll see today, as I said, is a DreamWorld image, and the second one, which I have not yet edited, will show off her willingness to do what it takes to get the shot.  And I have to say, she was a great model!  She took direction very well and had a better knack for it than some "actual" models I've come across 😉
So, let me tell you a little about making Noemi's mask/headdress for this shot!  It all started with this lovely purple mask which I found at Rite Aid, of all places, on one of my many, many trips there to pick up prescriptions.  The color really caught my eye, I thought it would compliment Noemi well and I also noticed that it was less expensive than the completely blank, white masks at the craft store!  And no built-in swirls with the blank white masks either.  So that was a pretty easy decision to buy it.
But of course it can't just be a basic mask, even if it looked very pretty in its basic form.  The first thing I did was cover it with a layer of lace, which happened to be a remnant cut from my wedding dress (because, surprise!, it was too long ;)).
After brushing on a layer of fabric glue, I started with a layer of EXTREMELY glittery purple paint.
Then I did some trimming on the lace to get the edges to match those of the mask itself.
At this point, I knew I wanted to put some leaves and flowers on it, but I didn't know much more than that.  So I dragged out my fabric stash (what you're seeing here is what I'd been able to buy during a HUGE sale!), my glue gun and just started messing around.
I knew I wanted to extend the sides of the mask with leaves, so I started there.  Maynard helpfully modeled this part for me.
You can also see that I'd added a bit of black ink around the eye holes, rather like eyeliner.  Just a subtle touch to help draw the viewer's eye since there was going to be a fair bit going on.
I just played around with different colored flowers and shapes, holding them in place, tweaking things here and there and then suddenly I had a finished mask!  I hadn't planned on giving it so much vertical volume, that just sort of evolved naturally, but I liked how it looked so I went with it.  Some costumes I have planned out in precise detail before I ever start them, but others are more free-form, like this was.  Always listen to your gut 🙂
As I looked at it the next day, I felt like it was 95% there but it needed… something.  I didn't know what.  I mulled it over and when I woke up the next morning I knew it: mercury silver spray paint.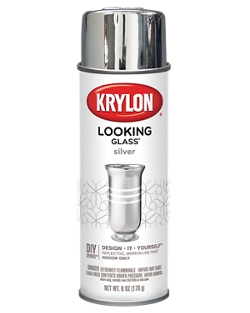 Krylon's Looking Glass spray paint is no ordinary silver paint.  It has a truly magical quality to it and I end up using it in almost every costume or prop I paint.  Just the slightest mist gives it a mysterious, magical, ethereal touch.  I try to always keep a couple cans on hand because I never know when I'll suddenly need them.
So that morning I took the mask outside and let the paint gently kiss the mask; just enough to give it that magical feeling without taking away the beautiful colors of the paint and flowers.  In the photos below (which are a little blurry, sorry, they were taken on my phone) the top photos show details of the flowers unpainted and the bottom have had their silver wash.
I filled a basket with appropriately magical-looking items and herbs but it didn't make it into the final image.  Oh well.  You can see just a little of the vial necklace I made full of purple stones and beads and the gorgeous amulet/brooch.  Jewel tones just loved Noemi's beautiful skin tone!
And now I'll let you see the completely finished image along with some detail shots!  The show trees had just started blooming in the woods and the wild queen anne's lace was bountiful.  Both made a beautiful, more neutral backdrop against Noemi's vividly colored mask and costume.
Thanks to Noemi for being so patient through all this!  I'm very glad to have made a new friend though all this 🙂  And I'm very happy with how this turned out!  You'll all just have to wait a little while longer to see the image where Noemi really proved her devotion to the finished image 😉